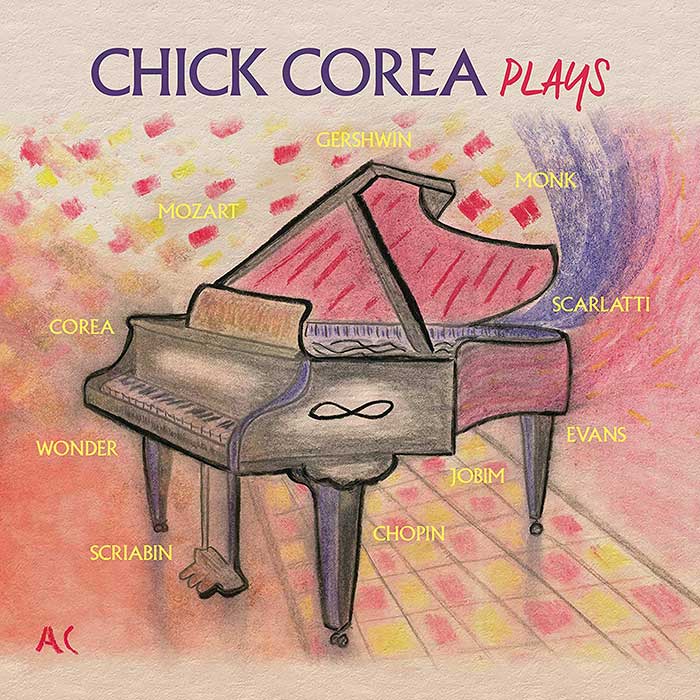 Plays – Chick Corea
Availability:

In Stock

Label: Concord Records
Model:

Disque vinyle, album triple - Vinyl, triple LP

Release:

2020

MPN:

CJA00287
Plays (2020), released on the Concord Jazz label, is the latest addition to Chick Corea's remarkable discography.

Corea's solo piano work explores a wide range of his musical influences, from the classical repertoire of Mozart, Chopin and Scriabin to the jazz of Thelonious Monk and Bill Evans, to the bossa nova beauty of Jobim and the modern pop sensibility of Stevie Wonder.

Plays would not be complete without a few classics from Corea's own collection, which have become standards over the last half-century.

Tracklist

-A1 /Chick Talks Mozart and Gershwin/
-A2 /Mozart: Piano Sonta In F, KV332 (2nd Part - Adagio) (Wolfgang Amadeus Mozart)/
-A3 /Someone to Watch Over Me (George Gershwin, Ira Gershwin)/
-A4 /Improvisation on Scarlatti (Chick Corea)/
-A5 /Scarlatti: Sonata In D Minor K9, L413 Allegro (Domenico Scarlatti)/
-B1 /Yesterdays (Jerome Kern, Otto Harbach)/
-B2 /Chick Talks Bill Evans and Antonio Jobim/
-B3 /Waltz for Debby (Bill Evans, Gene Lees)/
-B4 /Desafinado (Antonio Carlos Jobim, Newton Ferreira De Mendonça)/
-C1 /Chopin: Prelude Op.28 #4 (Frédéric Chopin)/
-C2 /Scriabin: Prelude Op. II (Part I) #4 (Alexander Scriabin)/
-C3 /Chick Talks Monk/
-C4 /Pannonica (Thelonious Monk)/
-C5 /Trinkle Trinkle (Thelonious Monk)/
-C6 /Blue Monk (Thelonious Monk)/
-D1 /Pastime Paradise (Stevie Wonder)/
-D2 /Chick Talks Paco/
-D3 /The Yellow Nimbus (Chick Corea)/
-D4 /Chick Talks Portraits/
-D5 /Portrait: Henrietta (Chick Corea)/
-D6 /Portrait: Chris (Chick Corea)/
-E1 /Chick Talks Duets/
-E2 /Duet: Yaron (Chick Corea)/
-E3 /Duet: Charles (Chick Corea)/
-E4 /Chick Talks Children Songs's/
-E5 /Children's Song No.1 (Chick Corea)/
-E6 /Children's Song No.3 (Chick Corea)/
-E7 /Children's Song No.4 (Chick Corea)/
-E8 /Children's Song No.9 (Chick Corea)/
-F1 /Children's Song No.10 (Chick Corea)/
-F2 /Children's Song No.15 (Chick Corea)/
-F3 /Children's Song No.17 (Chick Corea)/
-F4 /Children's Song No.12 (Chick Corea)/