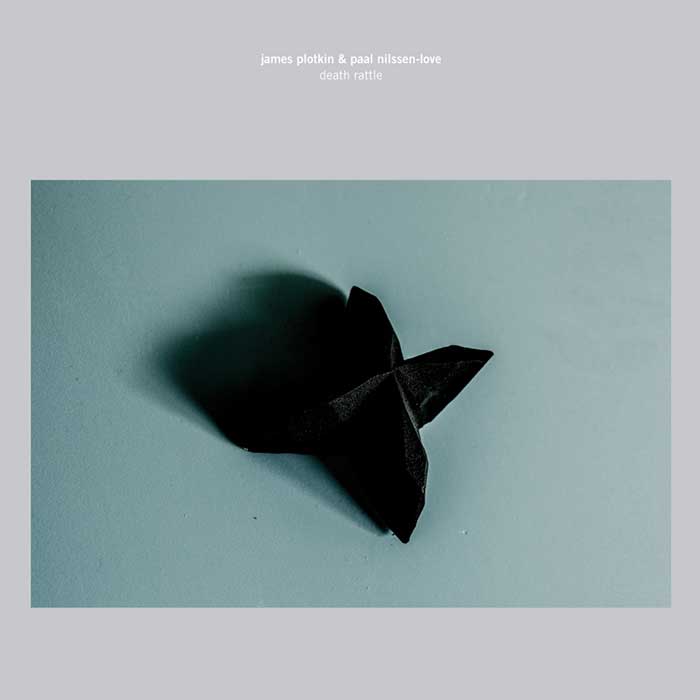 Death Rattle - James Plotkin and Paal Nielssen-Love
Availability:

In Stock

Label: Rune Grammofon
Model:

Disque vinyle, +CD, Édit ltée - Vinyl LP, +CD, Ltd Edit.

Release:

2013

MPN:

RLP3148
Death Rattle is a collision of two monumental forces. Like a pair of clashing typhoons, Philadelphia based avant-garde guitarist James Plotkin and Norwegian free jazz drummer Paal Nilssen-Love generate chaos, disturbance and a terrifying beauty in their first ever collaborative recording project.
James Plotkin's distinctively extreme, aggressive guitar sound has been a constant presence in underground music since the late 1980s, when he founded the metal-industrial band OLD. As a solo artist and as a member of outfits such as Scorn, Khanate, Phantomsmasher, Khlyst and Jodis, he has plotted a nomadic trail through new metal, dark ambient, industrial, noise, grindcore and drone rock.

As for Paal Nilssen-Love, he is one of the most intense drummers around; highly in demand, he has played alongside Mats Gustafsson, Peter Brötzmann, Toshinori Kondo, Massimo Pupillo, Terrie Ex, John Butcher and others.

Exhilarating!

Tracklist

A1. The Skin, the Colour
A2. Primateria
B1. Cock Circus
B2. Death Rattle
(CD) 1. The Skin, the Colour 2. Primateria 3. Cock Circus 4. Death Rattle